Welcome to the UK's biggest online office furniture retailer
Telephone Monday - Friday: 8:30am-5:30pm
Resist-a-Flame® Noticeboards
Open style notice boards with attractive anodised aluminium frame

Manufactured with flame retardant materials

Cloth and pin board assembly are tested to the latest European 'reaction to fire' test - see below

Choice of 6 colours all light fast to BS1006 class 5-6

Light Blue finish delivered in 10-15 days

1800W and 2400W noticeboards are delivered in 4-7 days

Can be mounted portrait or landscape

Wall fixings supplied
View full description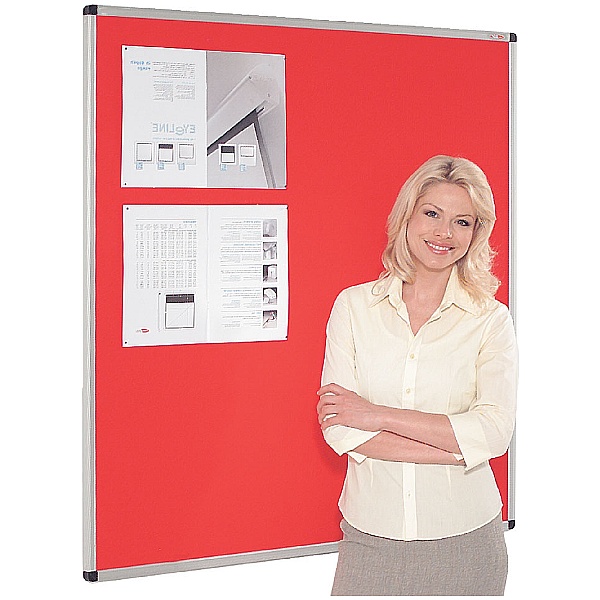 Open style notice boards with attractive anodised aluminium frame

Manufactured with flame retardant materials

Cloth and pin board assembly are tested to the latest European 'reaction to fire' test - see below

Choice of 6 colours all light fast to BS1006 class 5-6

Light Blue finish delivered in 10-15 days

1800W and 2400W noticeboards are delivered in 4-7 days

Can be mounted portrait or landscape

Wall fixings supplied

View all Noticeboards
Made to order especially for you. These boards are non-returnable unless damaged or faulty. Please call us to order them on 0333 7777 575 if you are unsure of colours or textures.
European 'Reaction to Fire' Test
Do you comply to public area building regulations?
When tested to the relevant European 'Reaction to Fire' tests, Resist-a-Flame® Notice boards were classified B-SI, d0 according to BS-EN 13501-1.
This classification identifies that these products can be used in the same area as products tested to BS476 Parts 6 and 7 and classified as class 0 according to UK building regulations.
The concern for public safety grows year on year, and legislation gets ever tighter for public buildings and construction. For this reason we have developed a family of products which have been designed and tested to meet the latest European fire regulations.
The Resist-a-Flame range means you can have complete confidence that your notice board, covered notice board or Showcase is approved in accordance with EN 13501-1 (2002).
This standard covers the resistance and reaction to fire for construction and building products. Resist-a-Flame products have been designed, manufactured and tested in accordance with the highest applicable standard.
Resist-a-Flame products include:
Notice boards
Tamperproof
Shield Showline
Shield Showcase