The centrepiece of any working environment, office desks are a simple yet vital part of any office space. While a good office chair is necessary to keep you focused throughout the working day, they're ultimately pointless without the humble office desk providing a solid space to work from.
In This Guide, We'll Cover:
Our top 5 tips for buying an office desk
Why are office desks important?
Things to consider when choosing an office desk
The different types of office desks
What office desk shape should you choose?
Our expert's opinion
Where can I buy office desks?
Office desks improve productivity, efficiency, and add an extra layer of comfort to your workspace by providing support for your arms. Not to mention, as the biggest pieces of furniture in your office, they help determine the mood of your office environment more than you might think.
This makes buying an office desk no simple task. Here at Office Furniture Online, we have a wide range of office desk styles to choose from, including material and colour, as well as bonus additions like attached drawers and mobile pedestals.
Picking the wrong office desks for your place of work will not only hinder your employee's productivity, but it may actually require you to totally refit your office.
To prevent you from falling into this trap, we've created a detailed office desk buying guide to provide you with some office desk ideas, and hopefully help you find the best office desks for your workspace.
Our Top Five Tips for Buying an Office Desk
There's plenty of information on what to look for in an office desk right here in our complete buying guide, but if you're just looking for some quick help you make a buying decision, here are our top 5 essential tips for picking up an office desk with minimal difficulty.
Consider how many desks you'll need
Work out how much space you'll need for your desks
Consider how much space you'll need on your desks
Set yourself a budget
Pick a material that works well with your office décor
Why are Office Desks Important?
We often take office desks for granted, but without them, we simply wouldn't be able to get any work done.
Not only are they the spot where we sit our computers and laptops, but they help us organise all our work materials together in one neat and convenient location thanks to drawers and file storage.
With modern collaborative working taking the world by storm, office desks are now more important than ever to provide a place for employees to sit, discuss, and work together on big projects. Your business's productivity will only be improved by investing in new workstations.
What to Consider when Choosing an Office Desk
With that in mind, you might already have some office desk ideas and feel ready to buy. However, office desk purchases shouldn't be made lightly.
There are numerous factors you'll need to account for to ensure that the office desks you purchase are the right desks for your workplace.
Budget, available space, materials, and storage options – all of these need to be carefully considered before you settle on your selection; as do office desk styles.
Different office desk shapes:
L-Shaped
Shallow desks
Kidney desks
Wave desks
Cluster desks
Bench desks
How Big is your Workspace?
This is the first and most important factor to consider when buying office desks. The size of the space you have available will dictate your desk size and the types of office desks you should buy.
For example, a large office desk might seem like a smart investment if you like plenty of room to work in, but if you don't have the space to accommodate it, then you'll only be wasting money.
Before you even settle on one or more of the types of office desks available, measure your office's length and width. With these measurements in hand, you can compare various office desk sizes.
This will give you an idea of how many desks you'll be able to fit in your workspace while still having plenty of space to move about.
Measuring is particularly useful if your office is small so you can get the most out of your available space. It's less of an issue in an open-plan office, but you should still measure just make sure you leave enough space for other office furniture.
The best part about measuring your office space is that it lets you know how much room you'll have for future expansion, meaning you can buy office desks that save you money in the long run.
Do you Need an Office Desk with Drawers?
Next, you should consider whether you need an office desk with drawers. Bonus storage space is ideal, especially if you need to organise lots of paperwork.
But while the addition of an office desk with drawers gives you storage space on demand, you should think about the practical benefits.
If you have an office with cubicles, then giving everyone their own personal storage unit is a brilliant way to help them stay organised. If, on the other hand, you have a hot-desking, sit-stand work environment, then external storage around the room might be better to avoid work becoming muddled and lost.
Think about how your employees work and pick the option that will give you the most organisation and security.
The Different Types of Office Desk Materials
There are three main materials you can choose from when buying an office desk. Wood, glass, and metal. Here is where your office style comes into play, especially if you have either a traditional or modern office aesthetic.
Wood – A timeless classic, wood comes in many different varieties. A full wood finish provides a homely and traditional feeling while a reclaimed or MDF desk is simplistic but sturdy. However, wood can scratch easily and stain permanently if you're not careful. They can also be expensive, requiring you to make an investment if you want to avoid an MDF desk that falls apart after a year or two.
Metal – Super durable, easy to clean, and able to blend well with most rooms, a metal desk is one of the most hard-wearing types of office desks out there, and they're surprisingly affordable. You'll want to find a good finish though, otherwise, your desk might wind up looking rather drab. Metal desks can also get rather cold or hot in the winter and summer months.
Glass – This desk material can help make rooms seem smaller by giving the impression of taking up less space. While not the toughest of office desk materials, glass desks are temperature resistant, waterproof, and easy to clean. Glass desks are ideal for sleek and modern offices, but bear in mind that you might need to clean more often to keep glass desks from getting covered in handprints or smudges.
Getting the material of your chosen office desks right is crucial. If you're unsure of which office desk material is right for you and your office, get in touch and ask our experts for their advice!
Setting a Budget
The price of office desks can vary dramatically, with the models we have at Office Furniture Online ranging from £60 to well over £1,000.
To ensure you only buy the office desks you need, it's best to set yourself a budget price range. There are many high-quality office desks that won't be too expensive, though more elaborate and spacious desks will naturally cost more.
A bigger budget is obviously beneficial when it comes to office desks. While saving money right now might seem like the right call, investing in an expensive but good-quality desk means you won't have to replace it in the near future, saving you money in the long term.
Low-priced
Mid-priced
High-end
£70-100
£400
£800+
Features:

·         Plenty of desk space

·         Cable ports

·         Modesty panels

Features:

·         Basic standing desk options

·         Multi-person desks

·         Minimal attached desk storage

·         Cable ports or cable storage options

Features:

·         Expensive materials

·         Built-in storage

·         Plenty of desk space

·         Advanced standing desk options
Choosing Fun Office Desk Accessories
Safe to say, a dull and dreary desk is not a motivating sight for most employees!
If you're happy for staff to personalise their workspace, then you should pick a desk that allows them to add a few fun office desk accessories.
Having the space for things like potted plants and family pictures instantly breaths life into an otherwise mundane environment, and it leaves room for the use of practical additions such as laptop stands and in-trays.
The Different Types of Office Desks
Now it's time to break down the different types of office desks available. Each type can complement a variety of different work environments and styles, some even coming with unique functions to enhance workplace healthy.
All have specific benefits and drawbacks you'll need to consider depending on your work environment, and many may not be suitable for your needs. Unlike home office furniture, you're not just investing in a single desk, so remember to think about your business as a whole.
Computer Desk
The standard type of large office desk available is named so because it is designed to be used in tandem with a computer. Computer desks have enough space for you to fit your monitor, computer case, and printer around you with room to spare.
Many come with gaps at the back for cable management, and others can accommodate an attached or separate set of under-desk drawers.
The main consideration you'll have to make with computer desks is the space you have available. Plenty of computer desks can fit a small office, but this might not be viable if you plan on having multiple desks.
Computer desks are also rather basic and will likely require you to buy any furniture accessories separately.
Standing Desk
A more advanced form of desk for the modern age, investing in standing desks can promote a healthier work environment.
Standing desks are ideal if you have a hot-desking environment in an open space where people are coming and going regularly. They can also save on space by having an ergonomic stool instead of an office chair, which can be stored under the desk.
All standing desks help support good posture; however, many basic standing desks must be adjusted manually, which can be difficult to do with equipment on top.
They're also not suitable for extended working periods as long periods of standing can be just as bad for your health as sitting.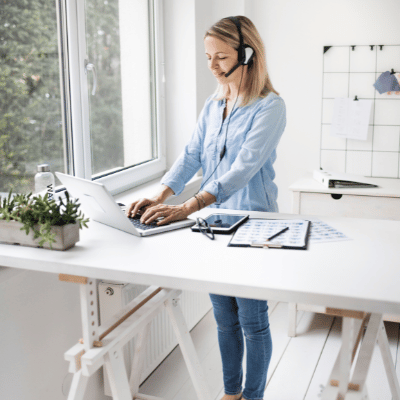 Bench Desk
Typically rectangular in shape and found in most modern offices, bench desks are perfect if you want to have your desks set up in rows or back to back for collaborative working.
Small and cost-effective, bench desks come in a wealth of colourful and durable style options, making them great long-term investments.
Unfortunately, a lack of legroom can be a problem on some of the smaller models, and some bench desks might not be able to fit storage cabinets if you want them grouped together in a small space.
Adjustable Desk
A slight variation on the standing desk, an adjustable desk is a sit-stand desk that can automatically have its height adjusted by the push of a button. These desks come with all the benefits of standing desks but allow you to have a proper ergonomic office chair for when you want to sit down.
They are, however, very expensive, and can be rather off-putting to use if made of glass.
Cluster Desk
Cluster desks are fantastic office desks if you want to focus on collaboration. Coming as one full desk or multiple desks placed together, you can seat several employees at a single cluster desk for discussion and teamwork purposes.
They lend themselves particularly well to call centre environments and are a hot-deskers dream. That being said, cluster desks are typically large office desks, not suited for small spaces; especially when you consider the room required for their accompanying office chairs.
They're also rather limited in customisation, and again, don't have a good range of under-desk storage options.
Ergonomic Desk
An ergonomic desk is a computer desk specifically designed to help you work more efficiently. These large office desks can be adjusted for your office chair's height and promote good sitting posture when combined with an ergonomic chair. These advanced computer desks can even have storage attached beneath or come with space for a mobile pedestal.
Top tips for an ergonomic desk layout:
Your monitor should be at eye level, about arm's length from your body
If you have a desk phone, it should be on your dominant side so you don't have to reach across to answer it
Move any office supplies you don't use at least once a week into a drawer
Keep a clear space on your dominant side to make it easy to review and sign important papers as soon as they cross your desk

What Office Desk Shape Should you Choose?
Your office desk's shape is just as important as its type and can make the difference between a small room having one desk or four. Office desk styles can also help to influence which shape of desk you buy, particularly if you want to match your office desks with your workplace design.
Corner Office Desk
Also called a radial or L-shaped desk, a corner office desk offers a large workspace that can fit into any room corner.
This makes a corner office desk ideal for small workspaces. That being said, they're also ideal for open-plan offices and collaboration as four corner office desks can be fitted together to make an island.
Just be sure you pick the right configuration as their layout can be either left or right. The shape of a corner office desk also means a user may have less legroom, and particularly small designs often can't have attached storage.
Rectangular Desk
The most common desk shape, rectangular desk styles can come as both a small and large office desk. Their shape makes them efficient for size and space, perfectly suited to being slotted together as benches.
There are little downsides to a rectangular desk, you just need to make sure you get your measurements right before buying.
Wave Desk
An older desk design, wave desks are still very popular. Traditionally used to house larger monitors, the modern-day use of slim PCs and laptops means that extra space can now be used as a workspace.
The bulging shape of the wave also gives its user much more legroom and is the perfect area for integrated storage. However, you will need to account for the length of the wave when making your measurements, and the wave shape itself can potentially make them unsuitable for smaller offices.
Kidney-Shaped Desk
Offering space and style in kind, a kidney-shaped desk might seem rather exotic. They offer a wide working area that can be reached with a twist of your chair, and they often come with integrated storage at either end.
Kidney-shaped desks are big, however, and take up a lot of room thanks to their awkward shape.
Our Expert's Opinion
Here at Office Furniture Online, we work with real experts to make sure we're offering you the best products on the market. Here's what office desk expert [Jane Doe] had to say about buying the right home office desk:
"The importance of a good office desk is often overlooked in favour of flashier office furniture, but you want to make sure you buy a high-quality desk to improve productivity and comfort."
Where Can I Buy Office Desks?
You can get excellent office desks from a variety of office furniture retailers, both online and in-store.
Here at Office Furniture Online, we have a huge range of office desks at competitive prices. From the versatile bench desk to various sit-stand models, we have plenty of office desks that can suit your needs.
With Office Furniture Online, you have access to over 10,000 furniture items at professionally discounted prices, so you can get the best office desks for your budget.
We're your one-stop shop for all your office furniture needs. Whether you're simply looking for a new office chair or a full office refurbishment, our staff are always on hand to offer expert advice about your office furniture requirements.
If you want to know more about the different ergonomic office chairs that can match your office desk's style or any of the other types of office chairs we have available, you can find all our office chair buying guides right here. For further advice on how to improve your office, you can read a selection of in-depth articles on our blog.