Home Office Desk Buying Guide
If you're one of the many people who've recently started working from home, it's probably become clear that working at your kitchen table or on the couch isn't great for productivity. If this is the case, then you need to buy a home office desk.
In This Guide, We'll Cover:
Our top 5 tips for buying a home office desk
Why is a home office desk important?
Things to consider when choosing a desk
The different types of desks for a home office
What home office desk shape should you choose?
Our expert's opinion
Where can I buy a home office desk?
While it might be a great feeling to be able to wake up and start work without enduring the morning commute, that might wear off without access to a dedicated workspace.
You're not likely to get anything done if you've nowhere to sit your computer or files. Anyone who wants to work from home needs a good home office desk. Not only will having one complete your office setup and help put you in the frame of mind to work; their varied styles and shapes can make them the centrepiece of your office.
But you shouldn't buy the first office desk you see. You need to take many factors into account to ensure you buy the best desk for your home workspace.
That's what this home office desk buying guide is all about; giving you top tips and ideas to help you find a desk that's perfect for you.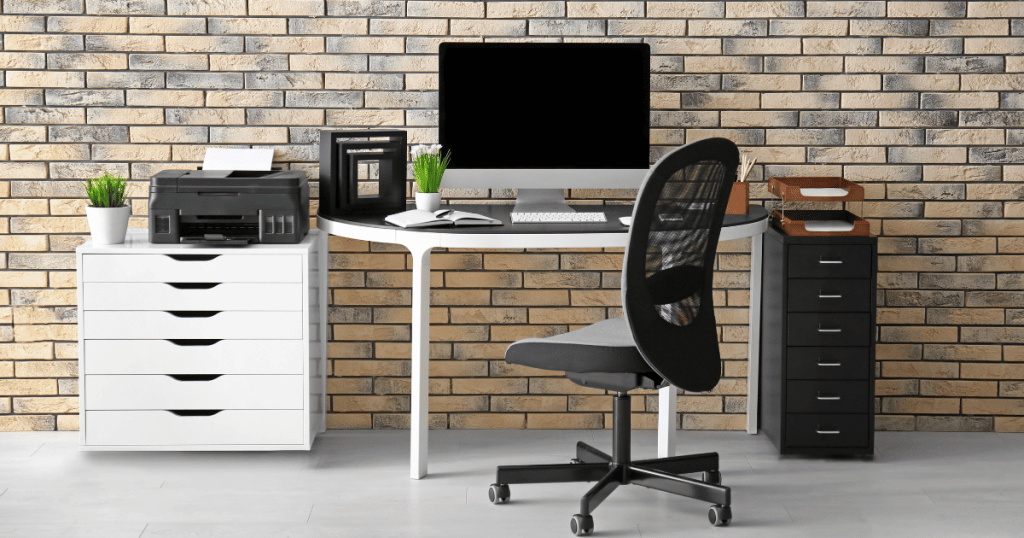 Our Top Five Tips for Buying a Home Office Desk
We've got plenty of information on what to look for in a home office desk right here in our complete buying guide, but if you're just looking for some quick help to steer your purchase, here are our top 5 essential tips for buying an office desk. Stick with these and you'll have no trouble finding the right home office desk to make hard work feel simple.
Work out how much space you'll need for your desk
Consider how much space you'll need on your desk
Consider if you want a sit-stand desk
Set yourself a budget
Make sure you pick a desk that matches your home office style
Why is a Home Office Desk Important?
It might seem obvious, but plenty of people continue to work from home without investing in the proper equipment.
A desk for your home office is not just a nice accessory, it's a necessity! They provide that one place in your home that is solely for work. If you're sitting in bed or on the couch, your mind is going to be elsewhere; likely thinking about reading or watching TV instead of actually finishing the project in front of you.
Not only will the addition of a home office desk improve your productivity, but it also gives you a wide space to work on. A home office desk with storage will give you plenty of neat little drawers to help you stay organised. You don't want to be losing confidential paperwork down the back of the sofa.
Even if you don't have an office, simply having a home office desk gives you that needed workspace and helps hint to those around you that when you're sitting there, you're working.
A home office desk also differs extensively from a traditional office desk. It's your desk. It's for all your other important things on top of work. And seeing as no one else is going to be sitting there, you can brighten the space up with anything you want without worrying if it'll be okay with your manager.
Things to Consider when Choosing a Home Office Desk
Before we discuss home office desk ideas, it's important we talk about the external factors you'll need to consider before making your decision.
Unlike a normal office, you're only buying a single desk for your home. You might not have a huge budget, unlike a big business kitting out a whole office, but you still need to take form and function into account.
You'll need to consider your available workspace, office storage requirements, and preferred style in order to find the best home office desk for your needs.
Having an idea of these three things will make the selection and buying process that much simpler and leave you with a home office desk you'll be happy to sit at during the week.
How Big is your Home Office?
Measure twice, buy once. This should be your thinking the moment you start looking for any home office desk. The layout of your home is going to have a big impact on the type of desk you can buy.
If you have an office, especially a small one, you need to measure the space you want to put your desk to ensure your chosen model fits comfortably.
The average desk will sit between 1 and 2 meters in width and half a meter in depth. Height can vary but width and depth are the two measurements you need to know. With these in hand, you can search specifically for desks that will fit your office space.
Measuring is important even if you have an open workspace. You want to be sure you can accommodate your desk while still having space to move around and access other furniture.
If space is really tight, you might want to think about a small home office desk or even a portable desk or laptop stand. The last two can be easily tucked away at the end of a workday and you can purchase additional cabinets along with them.
Do you Require Additional Storage Space?
A home office desk with storage is always a good option, especially if you find yourself needing to file important documents. They're particularly useful if you can't fit any large storage furniture around your workspace.
However, a home office desk with storage is usually larger than the average desk, making them ill-suited for small offices or places of work.
Instead, you might want to opt for a smaller desk and then purchase either a pedestal, desk organisers, or external storage that you can put elsewhere in your home. Many desks come with overhead shelving known as a hutch, making the desk taller and offering more space while keeping the width and depth the same.
What is your Home Office Desk Budget?
The cost of home office desks available at Office Furniture Online ranges between £50 to over £1000, and the price of any desk will vary depending on a number of factors.
The model, shape, material, and accessories will increase or decrease the price depending on what you choose, so it's a smart idea to settle on a flexible budget so you don't overspend.
That being said, you don't want to set your budget too low. An office desk is a long-term investment. Paying more for a high-quality home office desk now will only save you money in the future by ensuring you don't buy a desk that falls apart after a year.
Of course, there are plenty of excellent desks for those on a small budget. Here is a rough guide of what to expect for different price ranges:
Low-priced
Mid-priced
High-end
£50
£400
£800+
Features:

·         Adequate desk space

Features:

·         Basic standing desk options

·         Desk hutch options

·         Minimal attached desk storage

Features:

·         Expensive materials like mahogany

·         Built-in storage

·         Plenty of desk space

·         Advanced standing desk options
What Style Does your Home Office Follow?
Lastly, your own personal taste is going to place a huge role in the type of home office desk you buy. After all, you're not limited by office style, meaning you can find the exact design that works with your home décor.
A contemporary home office desk is a very popular choice, but you can also find minimalist and traditional options. Picking the right style for you is only going to enhance your working mood whenever you're sitting down.
As for desk materials, you have three options to choose from:
Wood – This is an excellent choice if want a rustic and homey feel. It looks great with most aesthetics and even MDF or reclaimed wood desks can last for years. Just be aware that a real wood desk will cost you more and they can stain quite easily.
Metal – Metal desks are tough and reliable, easily being the most durable of any desk material. They're resistant to all contaminants, simple to clean, and will look great with contemporary décor. However, you will need to invest in foot pads, especially on wooden floors, as metal tables can scratch the surface when moved.
Glass – The most stylish desk material available, glass can help make a desk look smaller and give the impression of taking up less room. They're fairly easy to keep clean and are certainly trendy, but their fragile durability means they should only really be used in a dedicated office to avoid damage.
The best part about choosing your own office desk and workspace is that you get to decorate it. You can add whatever desk accessories you want and really give it a personalised feel.
What's your Home Office Style?
The Different Types of Home Office Desks
There are a wide variety of desk types to choose from, leaving room for plenty of home office desk ideas. Consider the factors we've previously discussed and think about the kind of desk you might need.
Carefully weigh each desk type's benefits and drawbacks. A home office desk is an investment, so you want to be sure you pick the best option from the types available.
Computer desk
Without a doubt the most common type of home office desk available, a computer desk is specifically designed to accommodate both your laptop and a desktop.
Many computer desks come with storage attached underneath with space to hold your computer case, and plenty have roll-out trays for your keyboard.
Computer desks offer a huge workspace, meaning you can have desk organizers, in-trays, and any computer you want while still having the space to do paperwork.
However, these bonuses can make computer desks rather big. If you're short on space, you can find a small home office desk model, but these likely won't come with additional storage space.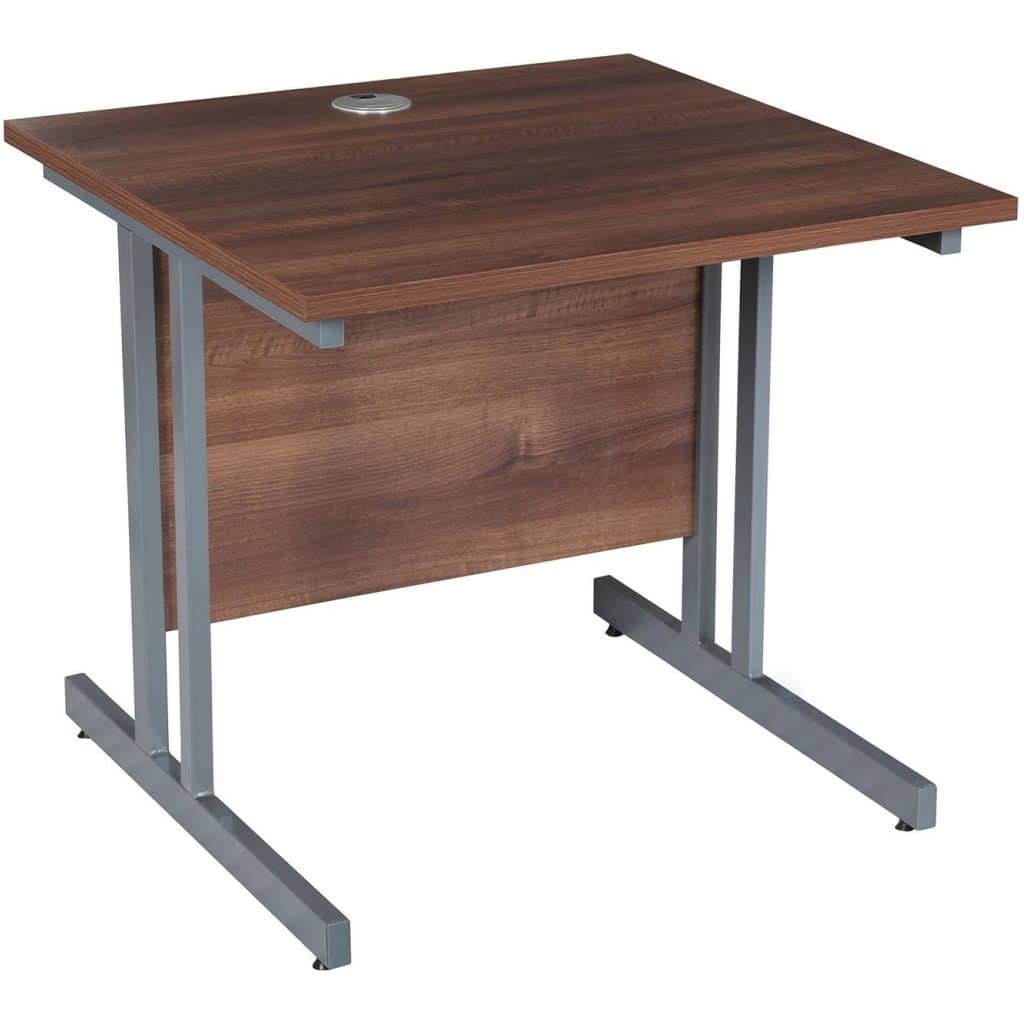 Standing desk
If you're interested in a more modern working style, then you might want to invest in a standing desk. Standing desks have an adjustable height function meaning you can raise it to the ideal height and then stand while you work.
These desks provide a suite of health benefits, including improving your posture and the circulation in your legs, as well as allowing you to lower the desk back to seating height if you get tired.
Where standing desks fall down is in their price. The best standing desks come with electronic motors to raise and lower the desk, but this system can make them a little more expensive.
You can find standing desks that use a manual crank; however, this can be tricky to use if the desk has heavy items on it. You will also have to purchase a home office chair as well if you intend to use it as a sit-stand desk.
Wall-mounted desk
Wall-mounted desks, or floating desks, are rather unique compared to the other desk types available. Mounted to the wall by brackets, they can fold down to reveal a desk or sit out the way in the corner, taking up minimal room.
They're an ideal small home office desk, however, you need to be sure you've picked the right spot for this type of desk, so you don't create unnecessary holes in your wall when assembling it.
Wall-mounted desks also tend to have less legroom due to their proximity to the wall, and they're not always ergonomically sound. Thus, it's a good idea to purchase an ergonomic chair alongside a wall-mounted desk.
Laptop desk
Small and simple, a laptop desk fits seamlessly into small spaces and corners. They're a must if you work predominantly from a laptop and don't have a huge budget.
Many come with draws attached, and when combined with a home office chair of your choice, they create a cosy little workstation.
Laptop desks are simple though and have less desk space than larger desk types. If you work on a desktop, you should look for something bigger.
Wheeled desk
Wheeled desks are perfect if you have no office and need to clear up your dedicated workspace at the end of each working day. Their wheels work on any floor, and their compact size lets them slot in between other furniture without issue.
Some designs even come with storage underneath for printers and files. Unfortunately, wheeled desks are not always made with ergonomics in mind, and like many other specialised home office desk types, will likely require you to purchase an ergonomic chair along with it.
Ergonomic desk
Finally, an ergonomic desk is a home office desk that helps to further promote good posture when combined with an ergonomic office chair. Curved to fit your shape, once you've adjusted your chair properly, you'll be able to work long hours without any discomfort.
This typically makes ergonomic desks more expensive than other desk types and not all come with under-desk storage, but the health benefits make this a good trade-off.
What Desk Shape Should you Choose?
While desk type is important to ensure you have enough space to work on, thinking about the shape of your desk is just as necessary; particularly when it comes to your home layout.
Think about how your workspace is shaped and laid out. If it's small, then you'll likely need a specific shape to fit it in with other office furniture. But if your workspace is open, then you can pick the shape you like best.
Corner office desk
Awkwardly shaped rooms can make fitting a desk troublesome. That's where corner office desks come in. Also known as L-shaped desks, these corner desks can fit in most spaces to create a private work nook.
Plenty of designs come with hutch storage, allowing you to keep all your important work items close at hand without the need to buy other office storage.
Corner office desks are often more expensive than other desks, but they are a must if you want to save space.
Rectangular desk
The most common desk shape available, rectangular desks are versatile and come in a range of sizes. They can go anywhere without difficulty and have practically no downsides, so make sure you measure correctly before you buy.
Kidney-shaped desk
The biggest and most spacious desk shape available, if you want as much room to work as possible, then you should buy a kidney-shaped desk.
Kidney-shaped desks encircle your office chair, meaning all you have to do is swivel to get to what you need. A lot of designs come with attached storage too.
Unfortunately, being big and spacious means you should only buy a kidney-shaped desk if you definitely have the room to house it. They don't sit well against walls and can be awkward to move around in a cluttered space.
Our Expert's Opinion
Here at Office Furniture Online, we work with real experts to make sure we're offering you the best products on the market. Here's what office desk expert [Jane Doe] had to say about buying the right home office desk:
"A lot of the time, our focus on office furniture is directed at our choice of chair, but your desk is just as important. A comfortable chair will be wasted if you buy a flimsy desk that doesn't fit in your office."
Where Can I Buy a Home Office Desk?
All office furniture retailers, both online and in-store, have a range of office desks to choose from. Here at Office Furniture Online, we pride ourselves on selling you the best office desks for home at amazing prices. From cosy laptop desks to a flexible sit-stand design, we're bound to have the best home office desk for you.
When shopping with Office Furniture Online, you have access to over 10,000 furniture items at great prices, meaning you can get the best office desk for your budget.
We're your one-stop-shop for all your office furniture needs. Whether you're simply looking for a new office chair or a full office refurbishment, our staff are always available to offer expert advice for your office furniture needs.
If you want to know more about the different ergonomic office chairs that can improve your posture or any of the other types of office chairs we have available, you can find all our office chair buying guides right here. If you'd like more advice on how to spruce up your office, why not take a look at our blog.