Concept Tambour Cupboards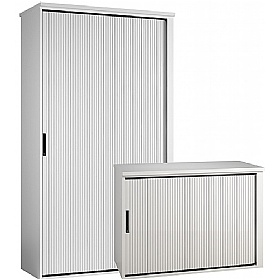 Concept Tambour Cupboards Product Information
Concept side tambour cupboards designed and manufactured in the UK.
Space saving side tambour door retracts into the unit when opened.
Lockable unit ideal for storing stationery and office supplies.
Quality 25mm melamine tops with ABS edges.
2mm impact resistant edging helps protect the against daily wear and tear.
15mm solid back panel for longevity of use.
Smooth action single tambour door with inset handle and lock.
Strong metal shelf supports.
Supplied empty - please select fitments below.
White carcass with white tambour door blinds.
Use alongside other items in the Concept range.
10 year manufacturers guarantee.
Choose one of the delivery methods below from the drop down menu:
Economy Service - Delivered in 7-10 working days flat packed for easy self-assembly.
Next Day Service - Delivered next working day flat packed for easy self-assembly.

This furniture is made to order especially for you and is therefore non-returnable unless damaged or faulty. Damages should be reported to us immediately on 0844 248 7001.

Next Day Service – Additional Information
Please bear in mind: Cancellations cannot be accepted after your order has been shipped. This is a NEXT DAY item if ordered by 1pm. Please make yourself available to receive delivery next working day. Failed deliveries may incur an additional re-delivery charge. In order to be able to offer next working day delivery of office furniture, next day office furniture can only be delivered to ground floor kerbside. Office Furniture Online cannot take the furniture in to your premises. In the event of any damages, please contact Office Furniture Online immediately. If you have any queries, please do not hesitate to contact our sales team on 0844 248 7001.

For bigger installations, why not take advantage of our free space planning and CAD design team to help you design the perfect solution for your space. Call our friendly sales team on 0844 248 7001 for more information. Please allow 24 hours turnaround for CAD drawings.

| | |
| --- | --- |
| Dimensions | (mm) |
| Width | 800 |
| Depth | 450 |
| Height | 730 or 1900 |