Office Chair Buying Guide
Productivity, motivation, and comfort. These three concepts are the foundation for any rewarding workday. So, if you want to have the most efficient workday possible, you need to be seated in an appropriately comfortable office chair.
In This Guide, We'll Cover:
Our top 5 tips for buying an office chair
Why choosing a good office chair is important?
What to consider when buying an office chair
What different types of office chairs are available?
Choosing a comfortable office chair fabric
Our expert's opinion
Where to buy office chairs
Now more than ever, we're spending longer sitting at our desks. That means you need to find the best office chair to support you through those long days. One that makes you excited to sit down and work every day.
We want to help you to find the type of office chair that best suits your place of work, which is why we've put together this comprehensive office chair buying guide. With us as your guide, you'll find the best office chairs to fit your place of work.
Our Top Five Tips for Buying an Office Chair
We've got plenty of information on what to look for in an office chair right here in our complete buying guide, but if you're just looking for some quick help to steer your purchase, here are our top 5 essential tips for buying an office chair. Stick with these and you'll have no trouble finding the right chair to make hard work feel simple.
Think about how long you'll be sitting in your chair
Consider how much space your office has
Try to pick an ergonomic model
Set yourself a budget
Always put comfort first
Why is Choosing a Good Office Chair Important?
Office chairs are a vital part of any workplace. They're what gives a boardroom its distinction and adds that welcoming sense to your desk every morning.
This makes it vital for you to purchase the best office chairs for your workspace. Open plan sit-stand desks, cubicles, meeting rooms, and all types of spaces suit a different style of chair.
Long office hours make a comfortable office chair essential. Productivity and motivation are tied to comfort. With modern working requirements, you could be sitting at your desk for upwards of 6 hours a day.
But you don't just want comfort, you need style too, something that matches your workplace's décor and layout. After all, you want to leave a good impression on visitors and lend that desired air of professionalism to your brand.
But before you start looking at modern office chairs in general, you need to get specific on the types of chairs your business requires.
Work office chairs are not the same as home office chairs. Investing in high-brand luxury seating simply isn't cost-effective. Neither is buying the cheapest chairs out there.
While home office chairs can be tailored to a user's specific personal and home needs. Standard office chairs need a degree of flexibility to provide comfort to different people.
What to Consider When Buying an Office Chair
While it can be tempting to go for the typical standard office chairs that have been around for decades, it's important for you to buy the best office chairs for your place of work.
Modern office chairs are proven to increase productivity through their simple but pleasant ergonomic designs. They're certainly more appealing to employees than old-fashioned fabric seats.
Arming yourself with a practical understanding of everything you need to consider when you buy office chairs will not only make the selection process easier but save you time and money in the long term that you can use to treat yourself to neat office accessories.
How Long will you be Sitting in your Chair?
The most important thing you need to consider is the length of time you and your employees will be seated each day.
In a traditional office setting, your staff will likely be sitting at their desks for 6 or more hours. But if you operate in a more creative workspace, this might drop to as little as 2 hours sitting down, especially if you get up and move about more often.
Chair ergonomics are important to consider in all cases, however, understanding how you and your employees work on a daily basis is crucial so you can buy office chairs that perfectly fit your work ethic.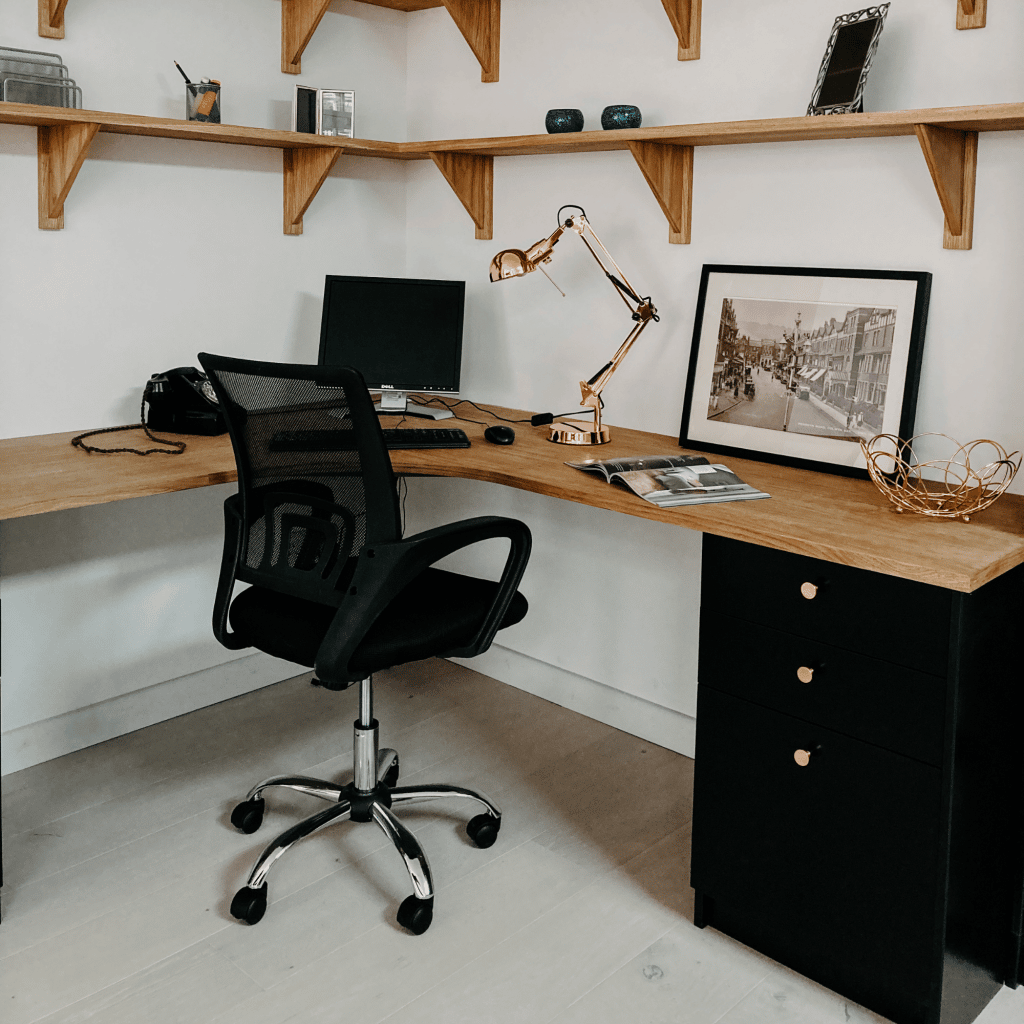 How Spacious is your Office Area?
A big, comfy office chair is certainly nice, especially if it's for your home office. But in a busy work environment, all it's going to do is get in the way.
You need to be aware of the size of your office space, and the number of employees you have, so you can buy the best office chair for your building.
First, take your time to find the optimal seating solution to suit your available space. With this in mind, you can narrow down your chair options to the types of office chairs that will practically fit while still providing the necessary comfort, movement, and support.
Knowledge of your available space is especially important for smaller businesses that might only have one or two rooms to work in.
Essentially, the more creative you can get with your seating solution, the better idea you'll have of the types of chairs you'll need.
What is your Budget?
Naturally, your budget is going to have a huge influence when you buy office chairs. This makes it even more important to know your space and seating requirements.
By understanding these, you'll be in a better position to know what chair features you can compromise on, and what features are a must.
For example, while all chairs should be ergonomic for greater levels of comfort and support, you might not need particular swivel functions or advanced lumbar options, especially if you're not sitting for long periods.
But if you're sitting all day, then you might have to cut back on style options in order to get the ergonomic features you need.
When it comes to buying an office chair, Office Furniture Online have chairs from as little as £30 to as much as £1,000. There are plenty of chairs to choose from. Here's a rough idea of what you can expect for various prices:
Low-priced
Mid-priced
High-end
£50
£200
£400+
Features:

·         Non-adjustable ergonomic support

·         Height and backrest adjustment

·         Comfortable fabric

Features:

·         Adjustable ergonomic height, backrest, headrest, and armrests

·         Breathable and comfortable mesh fabric

·         Fully adjustable range of motion

Features:

·         All ergonomic chair features

·         Specialist additions for bad backs and 24-hour support

·         Leather or an alternative material cover of your choosing
Do you Require Special Support?
Lastly, you'll need to consider if you or your employees require any form of specialist support when seated.
Studies show a high percentage of office workers will experience back issues at some point in their career, so ergonomic elements should be included on whatever chair you buy.
However, if you or an employee suffer from specific long-term health problems, then you'll need to invest in more specialised options.
This means finding office chairs with adjustable seat depth, lumbar support, and moveable back height.
What Different Types of Office Chairs are there?
Now that you have got a clear understanding of what to consider before you buy office chairs, it's time to look at the different types available.
While many traditional types of office chairs have been modernised for a contemporary look and feel, there is a range of new and stylish office chair models to choose from.
Just remember that each type of chair has its own benefits and drawbacks that you'll need to take into account before making your decision on the best office chair to buy.
Executive Office Chairs
The most luxurious office chair option available – executive office chairs – usually come in real or imitation leather, providing exquisite padding for all-day comfort.
Executive office chairs offer a suave and stylish look while still retaining office mobility thanks to a set of sturdy wheels and a relatively silent swivel seat. Almost all models come with an excellent range of height adjustments, and the supportive quality of their padding provides perfect working comfort.
Executive chairs are ideally suited for single offices or an open office plan with few desks.
However, they are the most expensive type of office chairs and can be quite big, making them ill-suited for more crowded office spaces. And while they do have armrests and height adjustment options, their range of bonus ergonomic features is rather limited.
Ergonomic Office Chairs
An ergonomic office chair is the most supportive comfy office chair option available.
They might not look it with their sometimes strange designs and meshed backs, but these types of office chairs provide a level of comfort that can compete with executive models while ensuring great posture and back support all day.
The best ergonomic chairs provide users with:
An adjustable seat
An adjustable backrest height
Varied seat-depth options
A range of lumbar support
Fully adjustable armrests
A range of tilt levels
Consistent head and neck support.
These types of chairs are a must-have if you and your employees are seated for long hours at a time, and they're a very stylish office chair choice for the modern workplace.
However, the best ergonomic chairs will likely set your budget back like executive chairs. Their complex-looking design can also sometimes make them difficult to construct.
Fortunately, with ergonomics becoming such an integral design feature in recent years, you'll still be able to find a wide selection of ergonomic chairs with all the important features at Office Furniture Online.
Bariatric Office Chairs
One of the more unique chair types available, a bariatric office chair is a seat specifically designed to support the needs of big and tall workers.
As we've mentioned time and again, everyone needs a comfy office chair. Bariatric office chairs come with a range of adjustable ergonomic elements, meaning they can accommodate all body types, and their padding is arranged to provide maximum comfort over long periods.
But as it's a specialist chair type, they will be more expensive. Their increased size also doesn't make them suitable for enclosed spaces but they're worth the investment for the increased productivity they bring.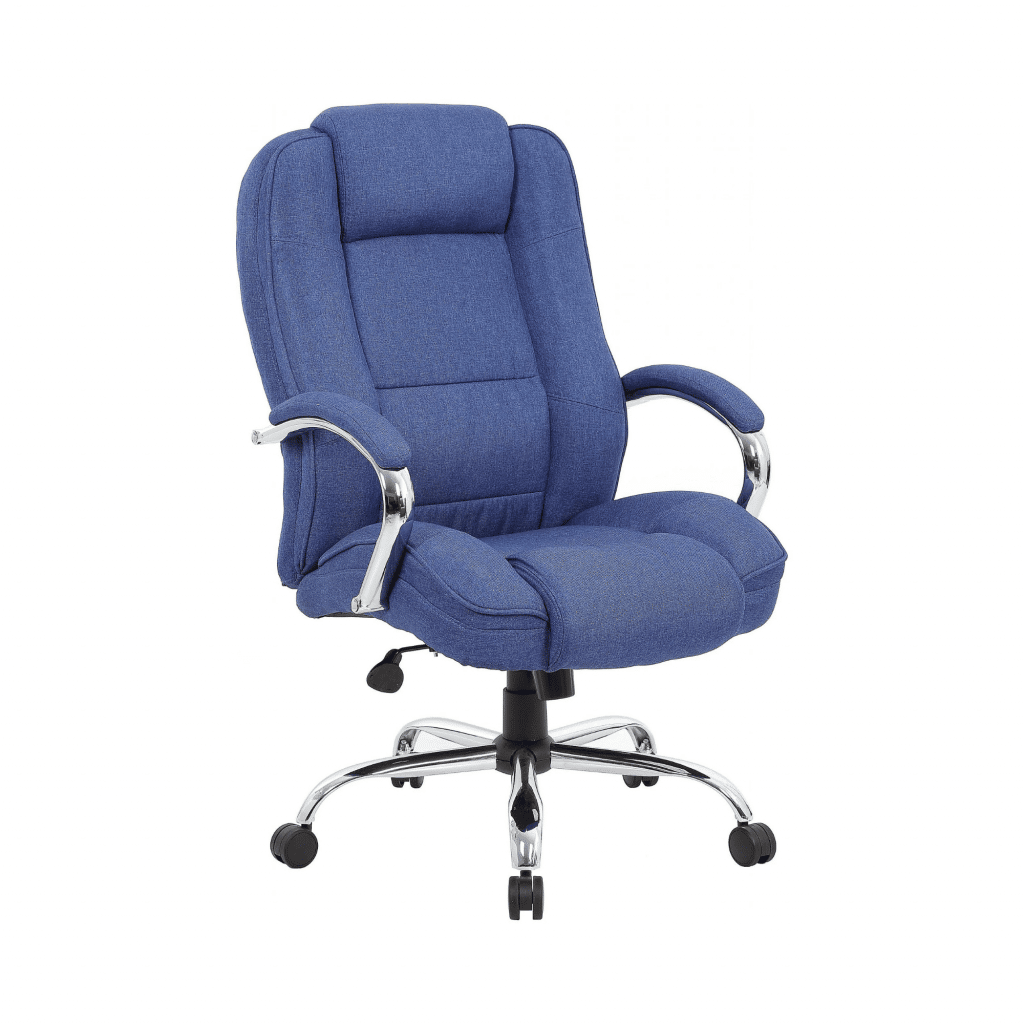 Operator and Task Chairs
Operator office chairs, also known as task chairs, are your classic office chair but brought into the modern-day.
Slimmed-down and simplified, task chairs still provide good padding and support alongside a varied range of adjustment options and style choices.
They strike that balance between form, function, and price.
If you want the biggest range of potential office chair options, look no further than an operator chair. However, make sure to thoroughly research your chosen model by looking at reviews to ensure you buy a reputable, long-lasting design.
Draughtsman Chairs
Draughtsman chairs are another uncommon chair type. They can be tall, simplistic stool models or lower bowl-shaped seats. They get their name from being the chair type most commonly used when at a drawing board or draughting table.
Popular with creatives and traditional office workers alike, a draughtsman chair is exactly the kind of chair you need if you plan to move about more in the day or work at a tall desk.
Ideal for use in tandem with a standing desk, many models now come with suitable armrests and padding for the lower back to encourage good posture, coming with bonuses such as:
An extensive range of height adjustment options
Long chair legs for additional height
Well-positioned foot bars to support your feet
You'll have little trouble finding a comfortable position to work in when you're sitting in a draughtsman chair.
That being said, while draughtsman chairs are great for extended hours in a creative role, they should not be relied upon for long-lasting support. If you're seated for more than 4 hours at a time, you'll need a traditional office chair.
Boardroom Chairs
A boardroom is not just any meeting room. It's the room where only the most important meetings occur. It's where you speak with shareholders and prospective clients.
To match the professionalism and style required by a boardroom, boardroom chairs are some of the most stylish and comfortable office chair types out there.
Taking inspiration from both ergonomic and task chairs, boardroom office chairs can be adjusted for all users while still offering consistent support through extended meetings.
They're also fairly compact, allowing you to seat multiple people in your boardroom without taking up excessive space.
Boardroom chairs are ideal for a meeting room environment where you're likely to be sat still but do not lend themselves well to extended periods of working. Their potentially expensive nature also means you shouldn't invest in too many outside the rooms you need them in.
Meeting Room Chairs
Basic but essential, meeting room chairs are incredibly simple designs that are perfect for filling those smaller meeting rooms cheaply. They come in a huge range of finishes, are incredibly practical, and can double up as the perfect reception chairs as well.
Their straightforward style makes them comfortable for those shorter-period meetings, and their range of aesthetic options means you should have no trouble finding one that suits your office space.
However, a meeting room chair is no substitute for an actual office chair and should not be used extensively at a desk.
Choosing a Comfortable Office Chair Fabric
Finally, no office chair is complete without the right fabric. There's a big range to choose from but your choice of fabric will probably come down to budget and style.
Is your office more contemporary in looks or more traditional? A consistent style is usually a must for most business aesthetics, so blending the available fabric options is not necessarily a good idea.
Traditional fabric chairs are an inexpensive choice, but to get a comfortable office chair fabric that offers real benefits, you need to look at more modern fabric choices.
Mesh Office Chairs
Breathable, flexible, and very ergonomic, are an economical way to buy an ergonomic chair with all the best features without inflating your budget.
Often replacing solid backrests, a mesh option makes your chair lighter and provides good air-circulation, yet still gives great back support. Mesh chairs are exactly the kind of stylish office chair that fits a contemporary office, and their minimalist compact nature makes them well suited to smaller workspaces.
Leather Office Chairs
If you have a more traditional office aesthetic and a bigger budget, leather office chairs can enhance that sense of elegance and exclusivity.
They're durable, long-lasting, and very easy to clean, enabling you to work in comfort and style. Just remember that their typically larger size can make them unwieldy in heavily desked environments.
Our Expert's Opinion
Here at Office Furniture Online, we work with real experts to make sure we're offering you the best products on the market. Here's what office chair expert [John Smith] had to say about buying the right office chair:
"A comfortable and ergonomic office chair is so vital in our modern working world. When you're comfortable, you work better, and when you work better, you'll finish the day feeling productive and fulfilled."
Where to Buy Office Chairs
Office chairs are available from all good office equipment retailers, both online and in-store.
Here at Office Furniture Online, we have a huge range of office chairs at fantastically competitive prices. From swanky executive models to functional ergonomic options, you're sure to find a comfy office chair that suits your style and ergonomic needs.
With Office Furniture Online, you have access to over 10,000 furniture items at competitive prices, so you can get the best office chair for your budget.
We're your one-stop-shop for all your office furniture needs. Whether you're simply looking for a new office desk or a full office refurbishment, our staff are always on hand to offer expert advice about your office furniture requirements.
If you want to know more about executive, ergonomic, or any of the other types of office chairs we have available, discover our full set of office chair buying guides.
And for even more tips and tricks on improving your office, why not check out our blog.